Have you ever missed an event at your school, work, or in your community due to a lack of delivery? People often realize about events in their communities by local newspapers, social media or traditional posters not only this doesn't reach everyone, It also scatters the information. That's why GroupCal Shared Calendar is the perfect solution for sharing calendars.
GroupCal can be used by all sorts of people, businesses and organizations. For example, communities and municipalities can create a shared calendar for all of the upcoming local events and meetings. This allows people to find all of the local events hosted by the community or municipality in one place with all of the necessary information. That creates  more exposure and reaches more people. 
Similarly, schools of all levels (daycares to universities) can easily share school events, schedules, days off and so much more with the students, parents and teachers. GroupCal can also be used by individual teachers to easily share their available office hours, assignments and exams.
Additionally, influencers can post their schedule on GroupCal and share it with their followers. Just like on social media, you can "follow" your favorite influencer's schedule and keep track of when their next post, live video, or TikTok is going to be posted. 
Gyms, Yoga, Horseback riding instructors, etc. can all share their opening hours and available courses with their clients on GroupCal. All courses can be set in an organized manner, with all of the necessary information on the calendar to minimize confusion of any sort.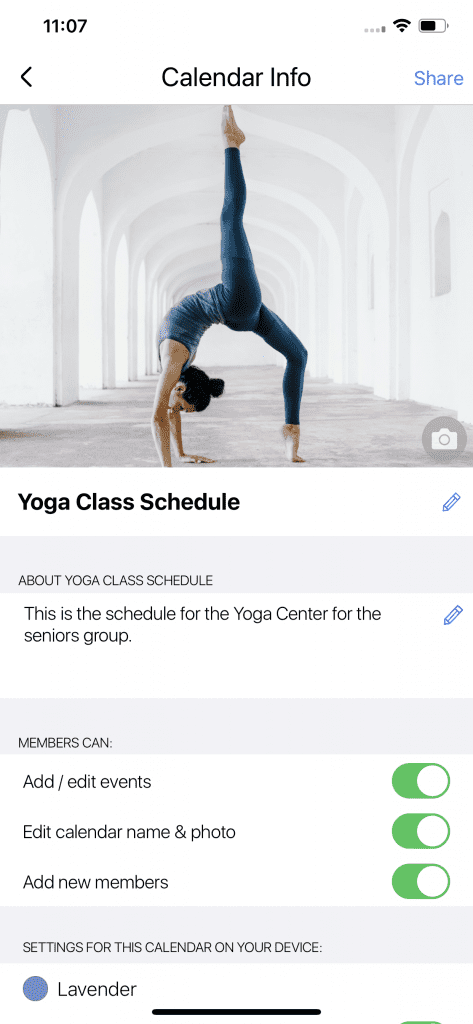 Calendar Channels
A calendar Channel is a unique option available on GroupCal, which lets this specific type of calendar to be searched on the GroupCal platform by customers, and join the calendar automatically. Calendar channels serve like messengers of events, letting the admins of channels share with their audience about upcoming events, without the audience changes the schedule. The Owners of Calendar channels can have unlimited number of members, and the calendar can hold a verification badge (upon a GroupCal process with the calendar owner).
Any calendar owner can easily add admins to help run and manage the calendar, and manage permissions easily. 
Real Time Updates
While thinking about building a new shared calendar platform, we thought about how things work nowadays. The first thing that was important for us to create is the "real time" experience. This is why GroupCal works similarly to messenger apps, where all updates and notifications are received in real time and not via emails. So for every event being added or changed to a shared calendar, all members will be instantly updated and notified.  
RSVP Feature
Another great feature is that RSVP can be requested on any calendar event. Blue check marks representing "read and accepted" appear on calendar events indicating participation status. When responding to an event, accepting the invite will add it to your calendar, declining will delete it from the calendar and responding with a maybe will keep the event in your calendar with stripes on the event.
GroupCal redefines how calendars look and behave, with a main screen that looks like a messenger app populated with groups of shared interests and schedules. Members can use phone numbers or links to join different groups, making the calendar experience more simple and seamless.
We would be happy to hear your questions and thoughts about GroupCal. Please let us know in the comments below.
With Love ❤️
The GroupCal Team.