The most powerful shared calendar
platform for businesses
Share calendars with your teams, groups, customers communities and followers
Get started
Use GroupCal for free ⦁ No credit card required
One place for all your calendars
Each for its own topic and with its own members,
all in one place, and alongside your other
calendar accounts.
Real time updates
and notifications
Members of shared calendars get real time
updates and notifications when they are
invited to the calendar, and when events are
updated.
Permissions
managment
Advanced permissions: assign admins, and control
who can update events, add new members
and make changes to the calendar.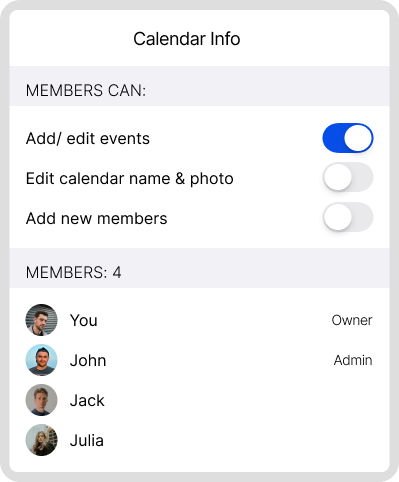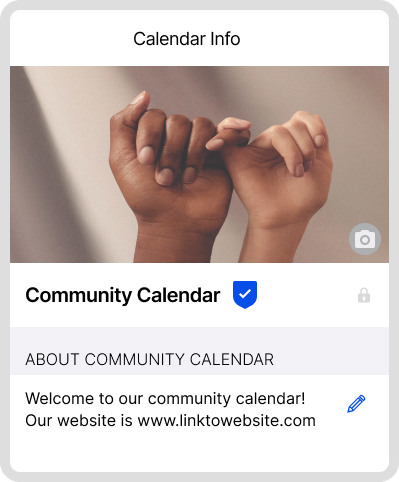 Business profile
Publish your business information on top of
your calendar. Get your business calendar
verified with a badge.
Shared calendar platform for businesses. Start
free
Try 7 days for free. Cancel any time
Number of calendars
Number of events
Number of admins
Choose who can add events
Choose who can change calendar name & photo
Choose who can add members
RSVP for events
Different color per
calendar members
Priority support
Landline number
Bussiness page
Calendar channels
Verified calendars
Free
For individuals who want to share calendars with family and friends
Unlimited
Unlimited
1
Pro
For professionals who need conrtol over the permissions of calendar members
Unlimited
Unlimited
1
Business
For businesses that need business grade features
Unlimited
Unlimited
3
Business +
For businesses that need advanced shared capabilities
Unlimited
Unlimited
Unlimited