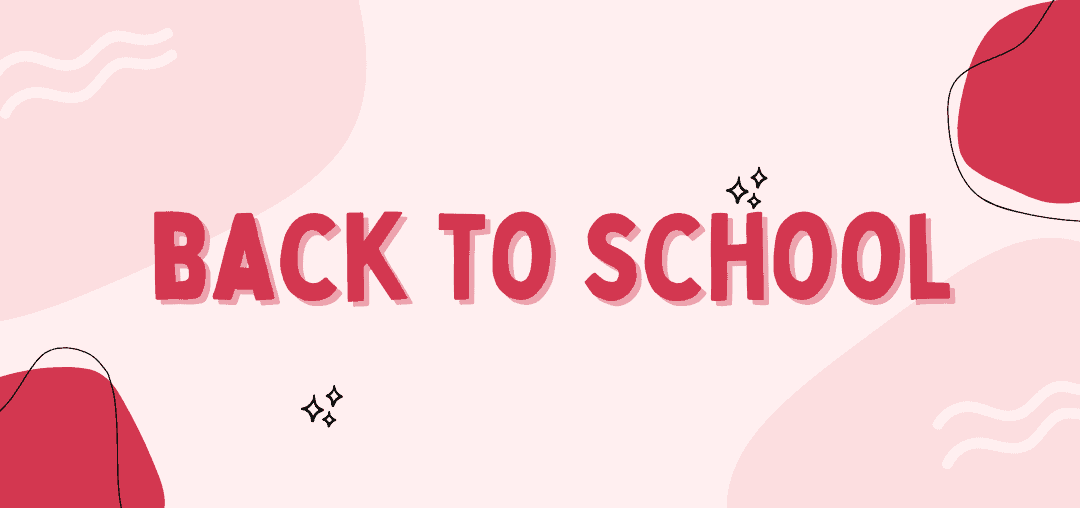 It's that time of year again! School is slowly approaching, meaning it's time to start preparing. GroupCal Shared Calendar presents an ideal solution for students and academic institutions at all levels, providing a seamless and collaborative platform to effectively organize their schedules.  
How students can use GroupCal to manage their academic environment
GroupCal provides students with a powerful tool to manage their academic calendar effectively. With its features and functionalities tailored to student needs, it offers a seamless experience for organizing various aspects of student life. Moreover, with GroupCal's unconstrained usage students can utilize multiple calendars for free. 
One way students utilize GroupCal is by creating individual class shared calendars. These calendars allow students to collaborate with their classmates, share important deadlines, and coordinate study sessions. Any event added to the class calendar including class schedule, or assignments and exams dates, will be automatically synced in real-time to the devices of all the students. By having a dedicated space for each class, students can easily stay organized and keep one another informed about assignments, projects, and exams. This fosters a sense of community and promotes academic success through collaborative learning.
Moreover, GroupCal can serve as a valuable platform for clubs and organizations on campus. Whether it's a fraternity, sorority, student council, or an art appreciation club, GroupCal allows members to schedule and manage their events, meetings, and activities in a centralized calendar. All club members can have access to that calendar on their personal device, done by simply clicking a link. Then all events which are added or updated are synced in real-time to their devices. This facilitates better coordination and communication among club members, ensuring everyone is on the same page and can actively participate in club events and initiatives.
Additionally, GroupCal caters to the needs of school sports teams. Student athletes can create dedicated calendars for their teams, where they can schedule practices, games, and team events. This enables efficient planning and coordination among team members, coaches, and staff, ensuring that everyone is aware of the training schedule and any upcoming competitions. The real-time updates and synchronization features of GroupCal ensure that any changes to the team's schedule are communicated instantly to all members, reducing confusion and improving team organization.
How academic institutions utilize GroupCal 
GroupCal is the perfect platform for sharing your institute's planned schedule for the upcoming year. It serves as a valuable tool to keep students and parents informed about important events such as assemblies, sports games, and parent-teacher conferences. Moreover, It can be used for updating  the community about important news like school closings due to weather or other emergencies.  By sharing event dates at the beginning of the year, you ensure that the community is well-prepared and informed well in advance.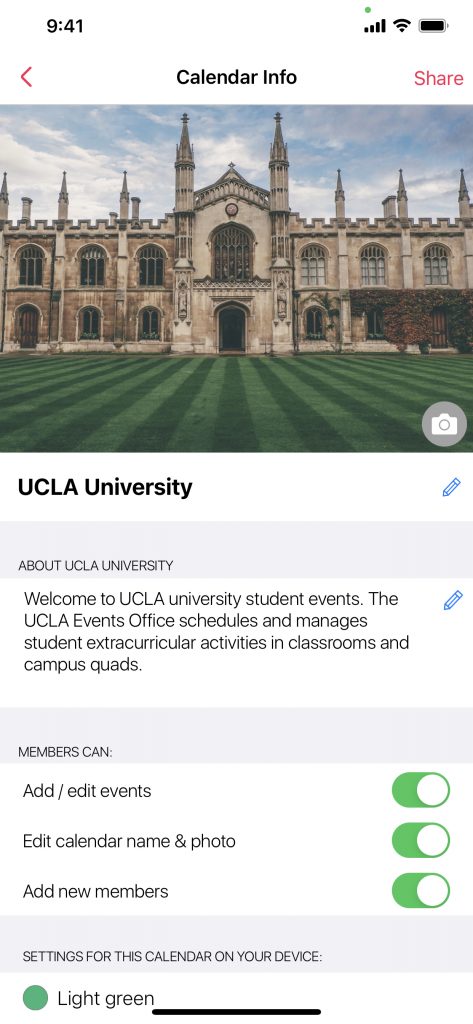 GroupCal offers exceptional flexibility for organizations to manage permissions and control shared calendars effectively. With GroupCal, you have the ability to create "calendar channels," which serve as a broadcasting platform to reach an unlimited audience. These calendar channels are easily discoverable through the search feature within GroupCal, allowing anyone to join them and stay informed.                                 
Alternatively, GroupCal provides a default option for creating shared calendars, where members can add events (with the option to disable this feature) and include calendar descriptions on the calendar info screen. You also have control over permissions, such as the number of admins and other relevant settings. Sharing a shared calendar is made simple, as you can easily generate a shareable link. This link can be effortlessly shared on various platforms, including social media, messaging apps, or emails. Furthermore, every update made to the shared schedule triggers a notification on members' phones, ensuring that everyone remains aware and up to date with the latest schedule changes.
Academic institutions have the ability to publish their calendar on their website. That way the calendar is easily accessible to parents, students, and staff. This can be achieved by embedding the calendar directly into the website's pages. By doing so, the school can provide a seamless and convenient experience for visitors who are seeking important dates and events. This includes crucial information such as exams, holidays, parent-teacher meetings, and special events. By publishing the school calendar on the website in this manner, the institution ensures that the information is readily available and up to date, improving communication and serving as a valuable resource for the entire school community.
To learn more on how to make your calendar public and publish it on your website check out this article on public calendars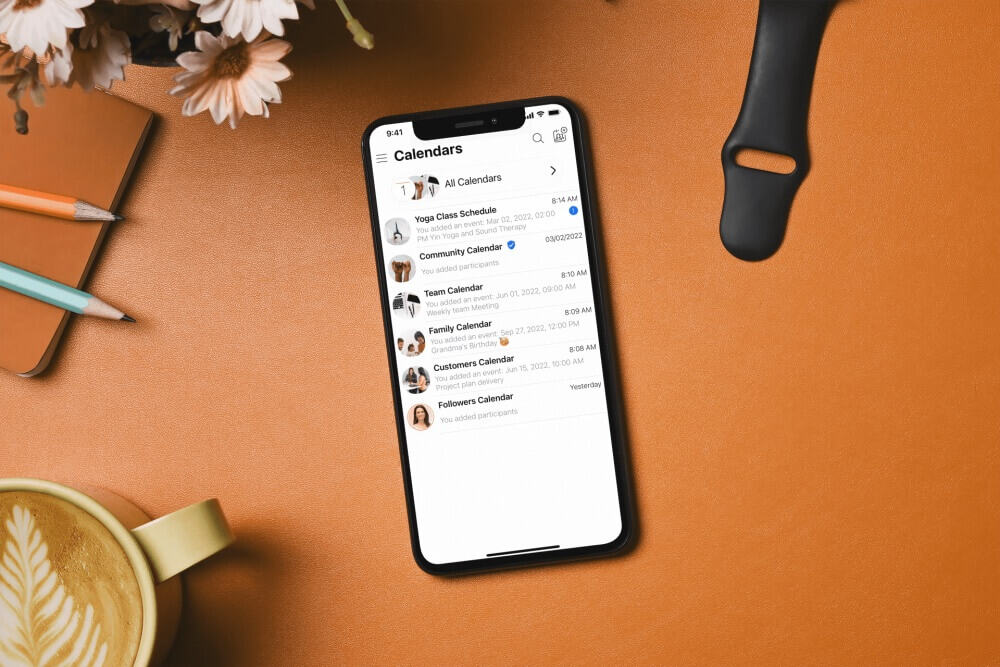 Overall, GroupCal is the perfect platform to build strong communities around a shared schedule, and keep everyone on the same page, whether they're teachers, students, parents or even entire institutions. 
 If you have any questions, please leave us a comment below. Wishing you and your community a successful academic year!