Website Calendar: Share your Schedule Online
A website calendar, also known as an online calendar, is a digital calendar that allows website owners to display and manage events, appointments, and schedules on their website. It provides a visual representation of dates, typically in a monthly, weekly, or daily format, allowing visitors to view upcoming events related to that website and their corresponding details. Examples of such website calendars include holiday hours or closures of a business, event venue availability, and trade show schedules, all of which are displayed on the respective business's website. We will provide further details about these examples later in this article.
In today's digital age, having a website calendar has become vital for businesses and individuals. Website calendars add a professional touch to your website and enhance the user experience by acting as a central hub for all your scheduled events, where you can provide your visitors with up-to-date information about upcoming events, important dates, or any other time-sensitive activities. 
One of the key advantages of a website calendar is the ability to add and update events seamlessly. Whether you're a community manager, organizing a conference, promoting a webinar, or managing a venue, you can easily input the details into your website calendar. The best part is that your changes or additions are instantly reflected on your website in real time. This ensures that visitors can always access the most accurate and up-to-date event information, eliminating any confusion or missed opportunities.
It's important to note that a website calendar allows you, as the website owner, to add and manage events at your discretion. When it comes to your visitors however, they view the scheduled events without the ability to modify them. This read-only feature maintains the integrity and accuracy of the calendar, ensuring that your audience receives reliable information without the risk of unintentional changes. However, if you would like to assign additional admins to your calendar website you can. Admins have the authority to act on the website owner's behalf and make any modifications needed. This delegation of responsibilities allows for efficient collaboration among team members, ensuring your website calendar accurately reflects your schedule.
Website Calendar – Examples
Restaurant Calendar
A website calendar is essential for restaurants to showcase their upcoming events and keep customers informed. It allows restaurants to communicate details about live music performances, trivia nights, happy hour specials, and other exclusive offerings.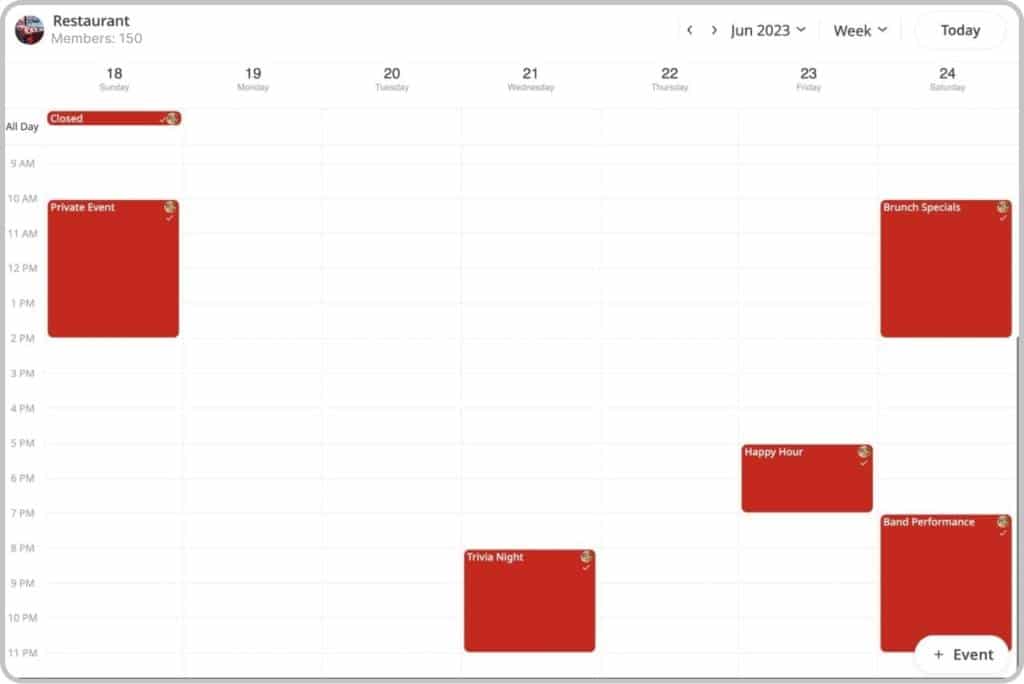 Professional Sports Teams Calendar
A calendar website will enable sports teams to showcase their schedule to fans and followers. It provides an easy-to-access source of information about upcoming games, away matches, and promotional events.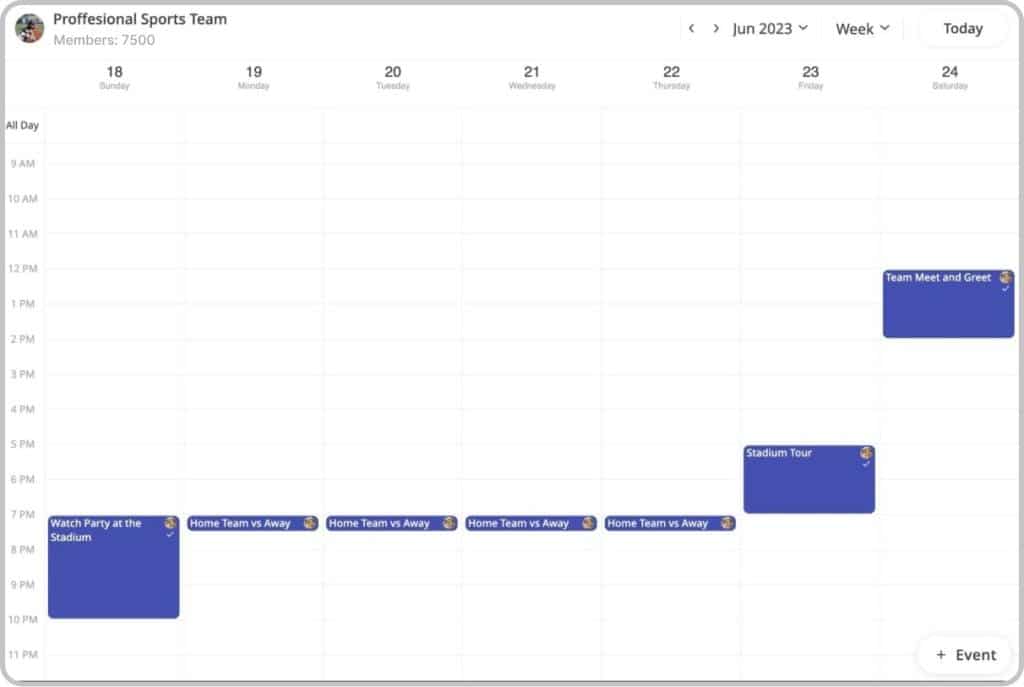 Higher Education and University Classes Calendar
A calendar website for students allows universities to organize and communicate class schedules efficiently. A separate calendar can be created per topic and class. Students can then subscribe to each of their class schedules and get updates on lectures, assignnments, and exams. Updates are sent to all students in that class by the calendar  in real time, streamlining the academic process and keeping everyone up to date.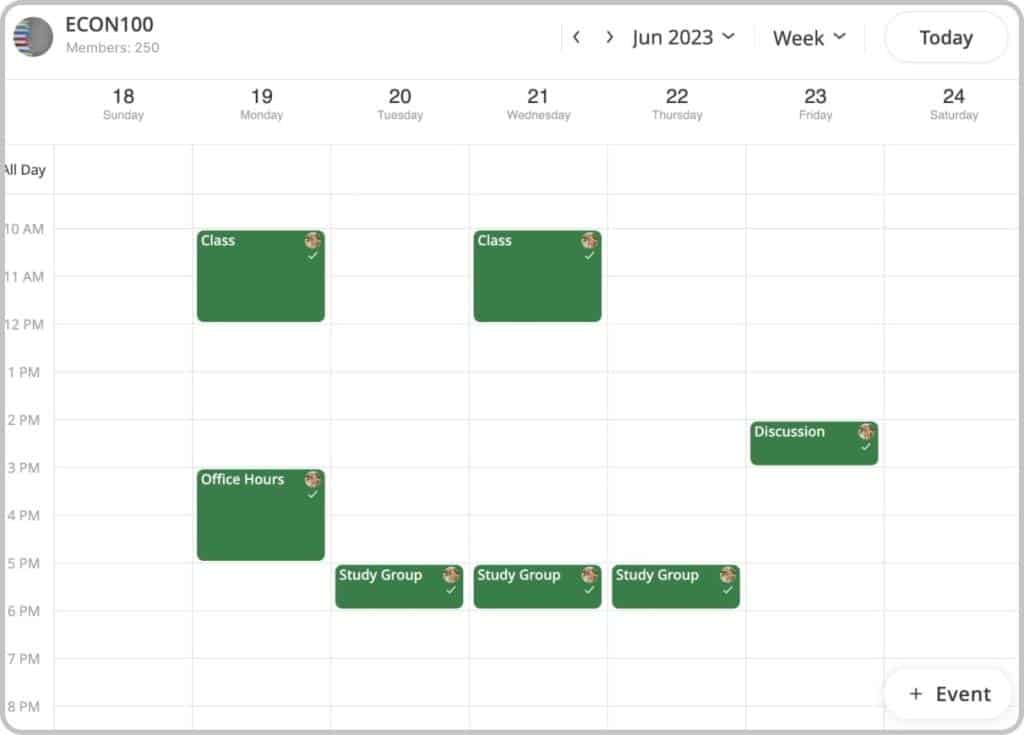 Amusement Parks
Amusement parks can significantly benefit from a calendar website to effectively manage and promote their rides, shows, and special events schedule. It lets them keep visitors updated about operating hours, seasonal offerings, and any changes to the lineup of activities.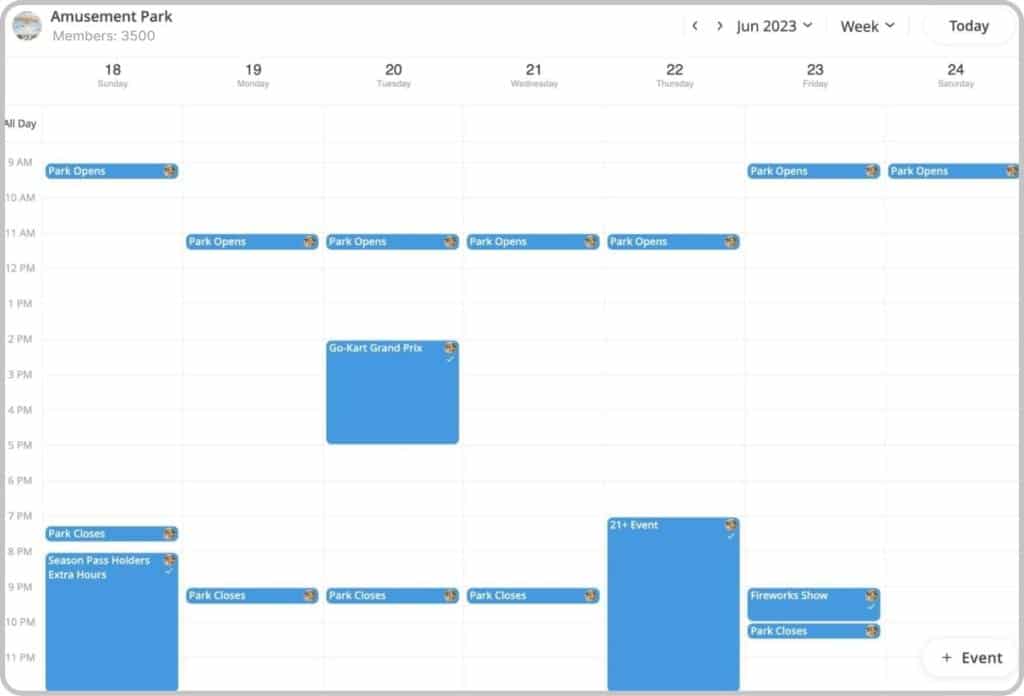 Social Media Influencers
Social media influencers can share their upcoming content schedule with a website calendar. The link to that calendar can be included as part of their channel or page on the various social networks they operate on. Their followers can know when to expect new videos, upcoming trips, collaborations, and special giveaways.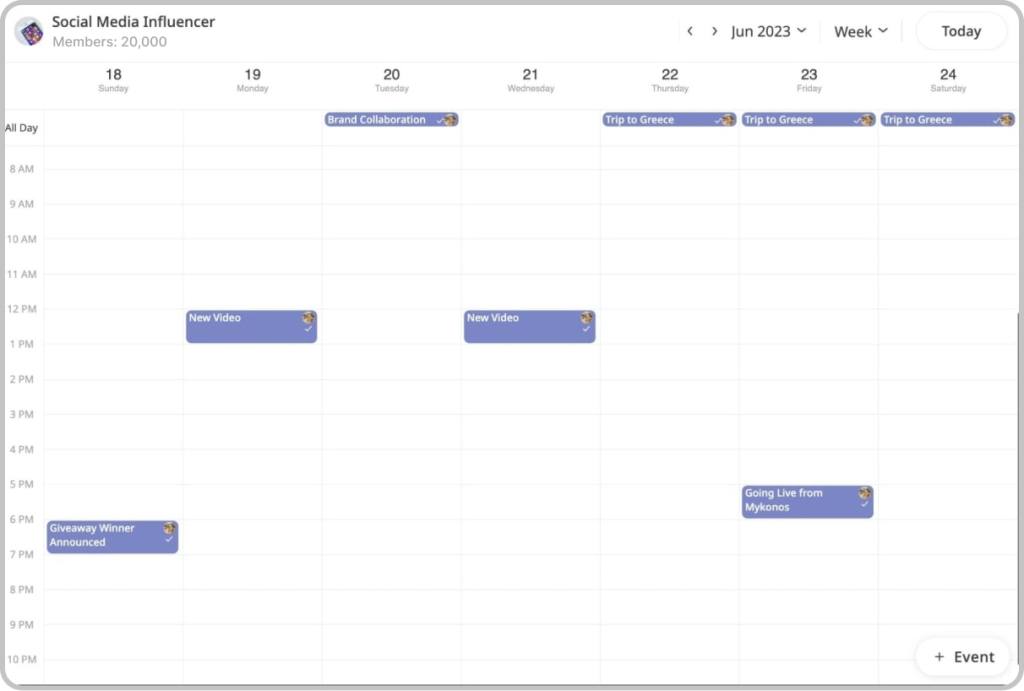 Why Choose GroupCal for Your Website Calendar?
Shared Calendar Platform: GroupCal's foundation is built specifically for

shared calendar

functionality, enabling seamless collaboration among teams, community members, and followers. 

Customizable and Brandable: Personalize your website calendar with colors and branding elements to create a cohesive look that aligns with your organization's identity. GroupCal is the best calendar website for this approach because of its commitment to providing a calendar all can interact with. 

Accessibility and Mobility: Manage your calendar from anywhere on your desktop or mobile device. GroupCal's responsive design ensures a smooth experience across IOS, Android, or online.

Verification Badge: Boost your credibility by adding a verification badge to your calendar, letting visitors know your events are legitimate and reliable.

Push Notifications: Your users and customer can join your calendar also on their mobile device, meaning the same calendar which is presented on your website can be added as an app to their device. Within GroupCal's app, users can receive push notifications whenever new or updated events are added to their calendars, ensuring they never miss important information. Furthermore, they can receive reminders about upcoming events.

Free of Charge for Personal Use: GroupCal is a free calendar website that can move your company, class, or community forward. 

Permission Management: GroupCal offers advanced permission management, giving you control over who can add events and make changes to your calendar. This feature is particularly valuable for

businesses

and organizations looking to streamline their scheduling processes. 

RSVP functionality: GroupCal allows users to RSVP for events, enhancing engagement and enhancing better planning. RSVP work in real time and the events indicate the RSVP status real time as well.
Advantages Over Google Calendar Website Calendar
Using Google Calendar website for a calendar website has its drawbacks. Its outdated design and limited personalization options make adding your brand and creating a cohesive look challenging. Unlike GroupCal, which seamlessly integrates with your website, Google Calendar lacks this level of customization. Additionally, Google Calendar's compatibility with other applications is limited, while GroupCal offers flexibility in integrating with multiple applications. GroupCal focuses on the social aspect of time management, fostering community and collaboration, unlike Google Calendar, which primarily serves as a personal scheduling tool. With GroupCal, you can easily organize personal calendars and channels, creating a comprehensive scheduling solution. 
In Conclusion, when it comes to selecting the best website calendar solution, GroupCal stands out as a top contender. Its feature rich-platform, customizable design, real-time updates, and advanced permission management make it the ideal choice for businesses, educational institutions, community organizations, and more.