Group Calendar App – Enhancing your Group Synchronization
A group calendar is a tool that enables multiple individuals or teams to organize, coordinate, and schedule events or appointments. It allows groups to have a centralized location where all members can view, update, and add events to a shared calendar, thereby reducing the need for lengthy email chains, phone calls, or messaging threads. The group calendar ensures that everyone is informed and on the same page, eliminating the chances of scheduling conflicts or double-bookings. 
The efficiency of group calendars lies in their ability to streamline communication and promote synchronization. Users can easily coordinate their schedules and avoid scheduling conflicts, leading to improved time management and productivity. Real-time updates and notifications ensure that everyone is aware of any changes or updates, avoiding any potential misunderstandings. Additionally, group calendars can be accessed from any device with internet access, making it easy for members to stay connected and up-to-date regardless of their location. By centralizing scheduling and communication, group calendars simplify the planning process and allow teams to focus on their tasks and goals.
Moving forward, let's take a closer look at some real-life groups that could benefit from using group calendars and their use cases.
Religious congregations 
Members of a religious congregation often have a set schedule of events such as weekly services, holiday celebrations, and community events. A group calendar can help ensure that all members are aware of these events and can plan accordingly. It can also allow for coordination of volunteers and resources needed for these events.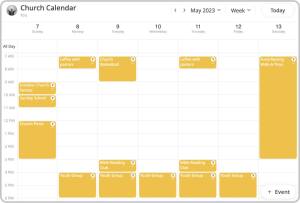 Sports teams 
Sports teams have regular practices, games, and tournaments that require coordination of schedules for all members of the team. A group calendar can help ensure that all team members are up to speed on approaching events, preventing scheduling conflicts. Moreover, It can allow for coordination of travel arrangements, equipment needs, and other logistics related to team events.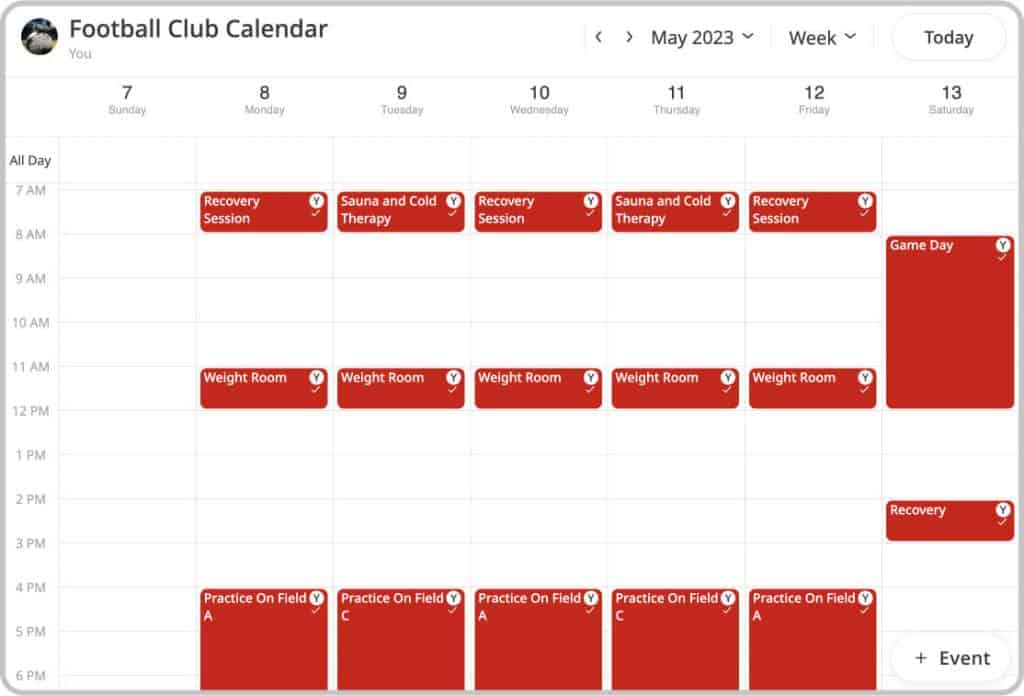 Fitness classes such as yoga centers, tennis clubs, etc.
Fitness classes such as yoga centers, tennis clubs, and other sports facilities typically have a large number of clients who attend classes and events regularly. A group calendar can greatly benefit these organizations by allowing clients to view class schedules, sign up for classes, and stay up-to-date on any changes or cancellations. Group calendars can enhance the overall experience of clients and help fitness centers retain loyal customers. Additionally, group calendars can help fitness centers manage their resources effectively by allowing them to schedule their trainers, facilities, and equipment more efficiently, maximizing their usage and minimizing conflicts.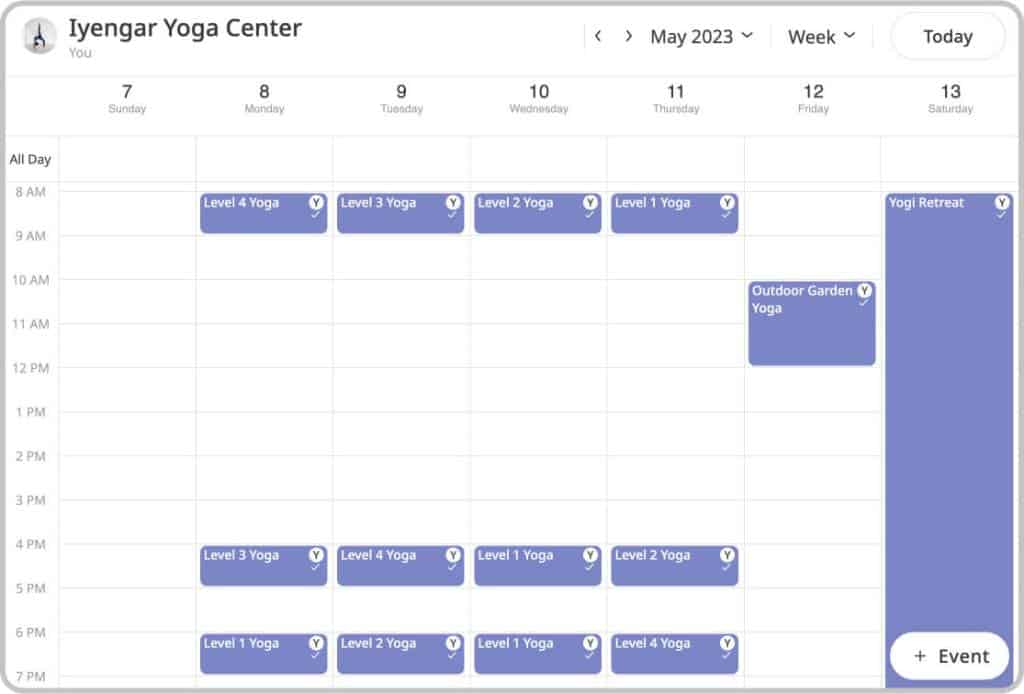 Student organizations/universities 
Student organizations and universities can benefit from group calendars as they have various events, activities, and meetings that need to be organized and communicated with members. Group calendars can help avoid scheduling conflicts and ensure that all members are aware of upcoming events. It can also facilitate coordination of activities such as student club meetings, sports events, and academic deadlines. In addition to events and activities, student organizations and universities can also benefit from group calendars to manage class schedules. Students can create shared calendars with their classmates in order to keep track of their class schedules and assignments and avoid missing important deadlines. Moreover, professors can use the calendar to notify students of new assignments and changes.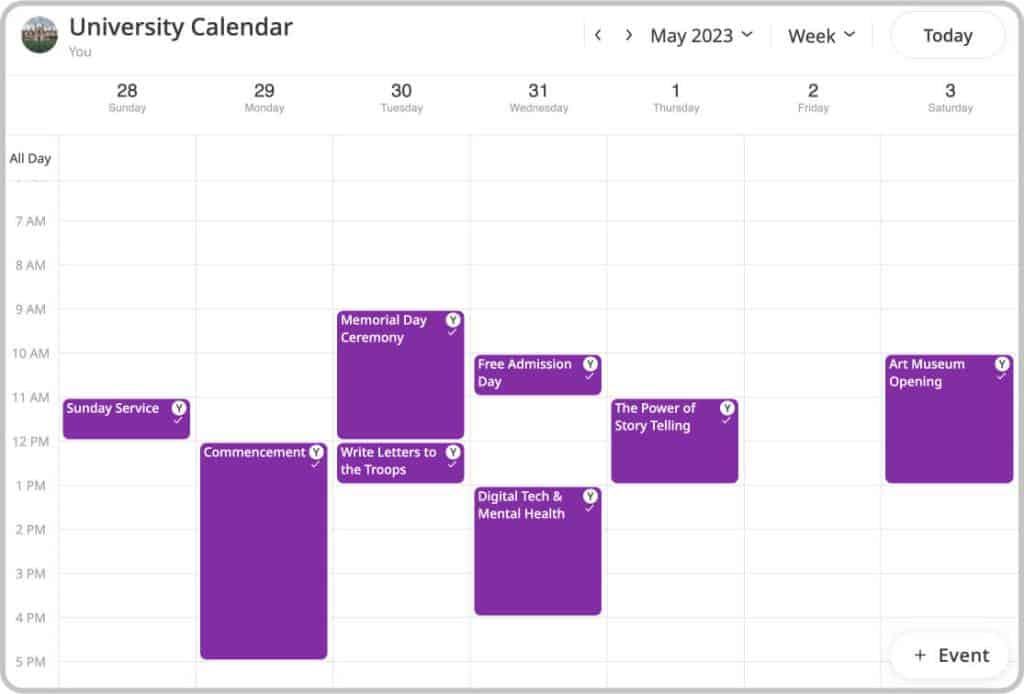 Non-profit organizations
Non-profit organizations organize various events including fundraising, community outreach programs, and board meetings, which require coordination among staff, volunteers, and board members. Group calendars provide a means to ensure that all members are informed about the scheduled events and can plan their participation correspondingly. Additionally, the calendars can facilitate coordination of volunteer shifts, fundraising efforts, and other tasks related to the organization's events.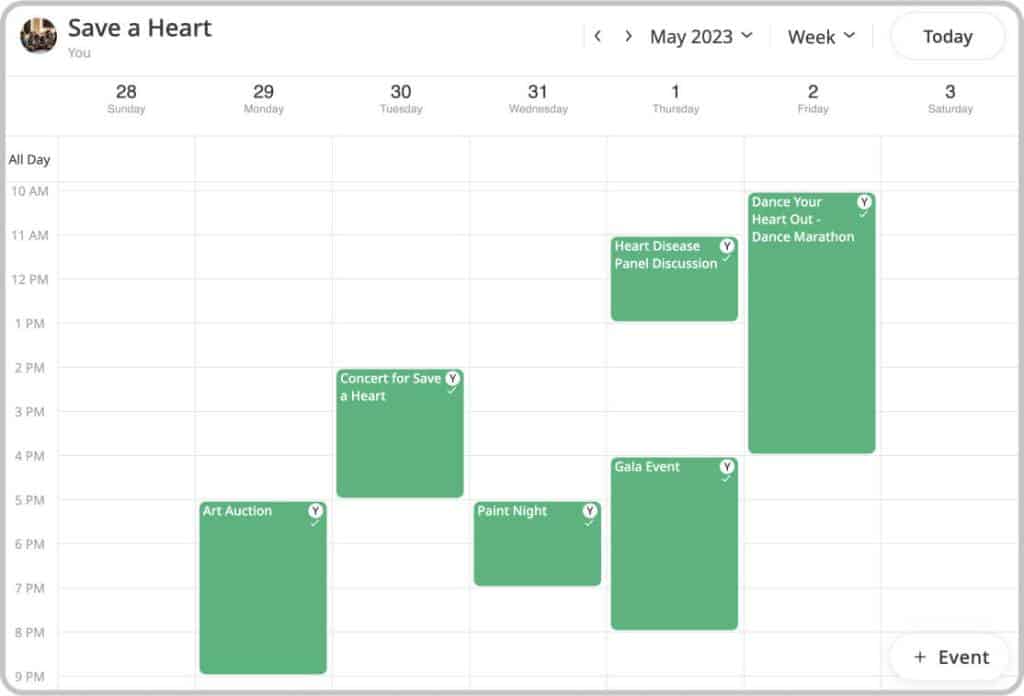 Homeowner association 
Homeowner associations typically have a range of shared responsibilities, such as maintenance and landscaping, that require coordinated efforts among residents. Group calendars can help ensure everyone is aware of upcoming tasks and deadlines, and can provide a centralized location for communication and collaboration. By utilizing group calendars, homeowner associations can enhance their efficiency and improve communication among their members.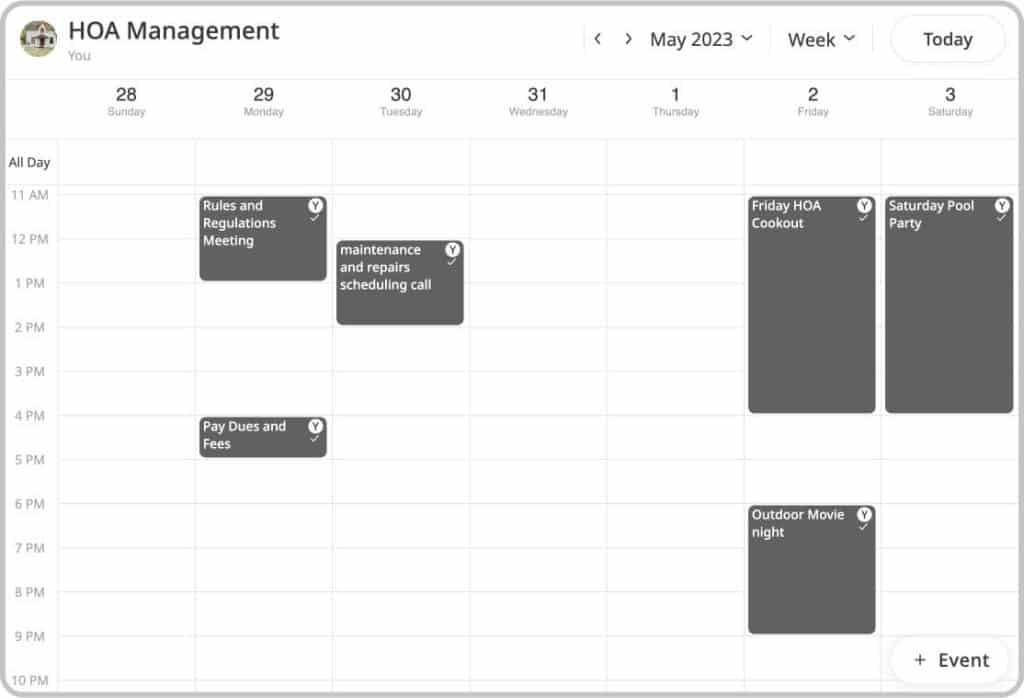 Shared resources such as meeting rooms, stables, horse owners, etc.
Shared resources such as meeting rooms, stables, and horse owners can greatly benefit from shared calendars. By having a centralized calendar that is accessible to all stakeholders, conflicts and scheduling issues can be avoided. For example, a horse stable with multiple owners and trainers can use a shared calendar to coordinate training schedules, horse care tasks, and facility use. This can prevent double booking of stalls, confusion over horse training schedules, and other issues that can arise when schedules are not properly coordinated. Similarly, companies with shared meeting rooms can use a shared calendar to avoid scheduling conflicts and ensure that meeting spaces are used efficiently.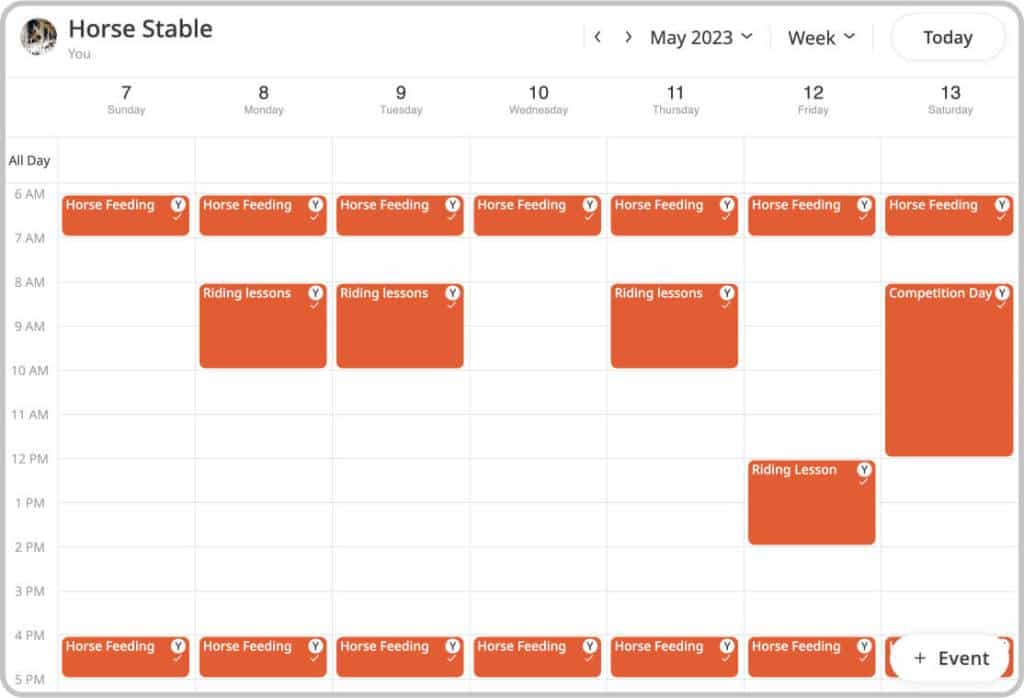 Using your existing calendar apps as group calendar  – disadvantages
While it is possible to use Outlook and Google Calendars for creating group calendars, there are multiple drawbacks to consider. These calendar apps were originally designed for personal use, and therefore lack the necessary features and functionalities to accommodate the complex scheduling needs of groups and teams. For example, they do not allow assigning colors per member or photos per member, which can be important for visually organizing and identifying team members' events. Additionally, they do not have the ability to track attendance or availability, which can be crucial for ensuring that everyone is on the same page and avoiding scheduling conflicts.
One of the biggest issues with using these calendar apps for group scheduling is the lack of synchronization. These calendars often lack real-time syncing and push notifications, making it challenging for members to stay informed about updates. Additionally, changes made to events may not be indicated effectively, causing further confusion and potential missed events. This can be particularly problematic for teams that need to stay on top of deadlines and meetings.
Overall, while Outlook and Google Calendars may work for small groups with simple scheduling needs, they are not the best solution for larger teams or more complex projects.
Here are a step-by-step guides:
Optimizing group calendar scheduling with GroupCal 
GroupCal is an application which was created and designed to optimize group calendar scheduling by providing a seamless experience with its real-time sync and automated updates. One of GroupCal's key features is its real-time sync capability, which ensures that group calendars are synchronized with other existing calendars from other apps in real-time. This means that any changes made to the calendar are immediately reflected across all devices and platforms. Additionally, GroupCal provides real-time updates and notifications, ensuring that users are always up-to-date with any changes to the schedule.
With GroupCal, confusion and errors are minimized thanks to its various features such as RSVP, customization, and cross-platform compatibility. Users can customize their events to meet their specific needs and preferences, such as adding location details, descriptions, and specific reminders. The app also provides RSVP capabilities, enabling users to indicate their attendance status and enabling organizers to plan accordingly. Furthermore, GroupCal is cross-platform, allowing users to access their calendars from any device and platform, ensuring maximum convenience.
Moreover, GroupCal's calendar embed feature allows users to display their group calendar on their website. This feature is especially valuable for organizations that have a website and want to provide their members or website visitors with an up-to-date calendar of events and activities. With the calendar embed feature, the calendar can be seamlessly integrated into the website, eliminating the need for members or visitors to navigate to a separate page or platform enhancing the overall user experience.
GroupCal is an ideal application for businesses and organizations that require seamless collaboration and scheduling of their events. Fitness classes, universities and student associations, and shared family calendars for vacations and daily tasks are just a few examples of the groups that can benefit from GroupCal's features. It provides a platform for teams to collaborate effectively, plan their schedules efficiently, and stay on top of their busy calendars.
How to Create a Group Calendar in GroupCal
Download GroupCal: First, download and install the GroupCal app on your iPhone or Android device from the respective app store.
https://apps.apple.com/us/app/groupcal-shared-calendar/id1472335927
https://play.google.com/store/apps/details?id=app.groupcal.www&pli=1

Create a shared calendar: Open the app and create a new shared calendar by clicking on the " + Calendar" button. You can name it, choose a photo for it, and a color, and click save to create an invitation link 

Invite member: Copy and send the given invitation link to the relevant members to join it. You can also directly add members by adding their phone numbers to the calendar. They will then get that calendar into their device automatically once they install the app or sign in to the web.
In conclusion, the benefits of using a group calendar app for team collaboration cannot be overstated. By facilitating effective scheduling and communication among team members, group calendars can increase productivity and efficiency, ultimately leading to better results for the organization. However, it's important to select a group calendar app that aligns with the specific needs of your team. Factors to consider include ease of use, synchronization options and compatibility with other tools, and real-time updates and notifications. GroupCal stands out as the best option due to its user-friendly interface and seamless integration with popular calendars such as Google Calendar. With GroupCal, teams can confidently rely on a single, centralized tool for managing schedules and collaborating effectively.