Family Calendar with GroupCal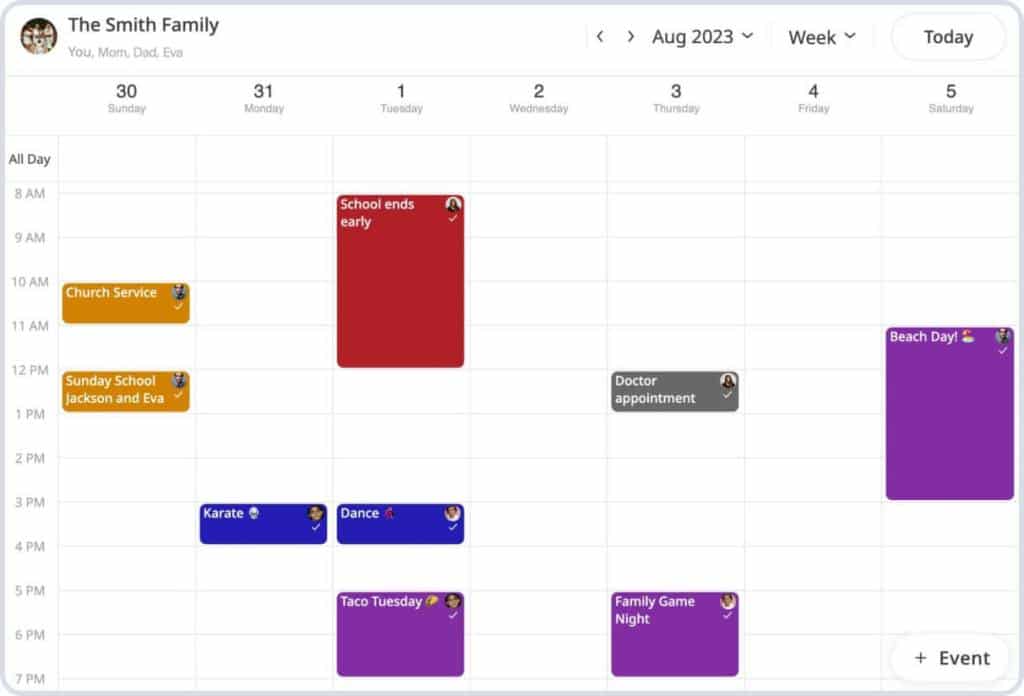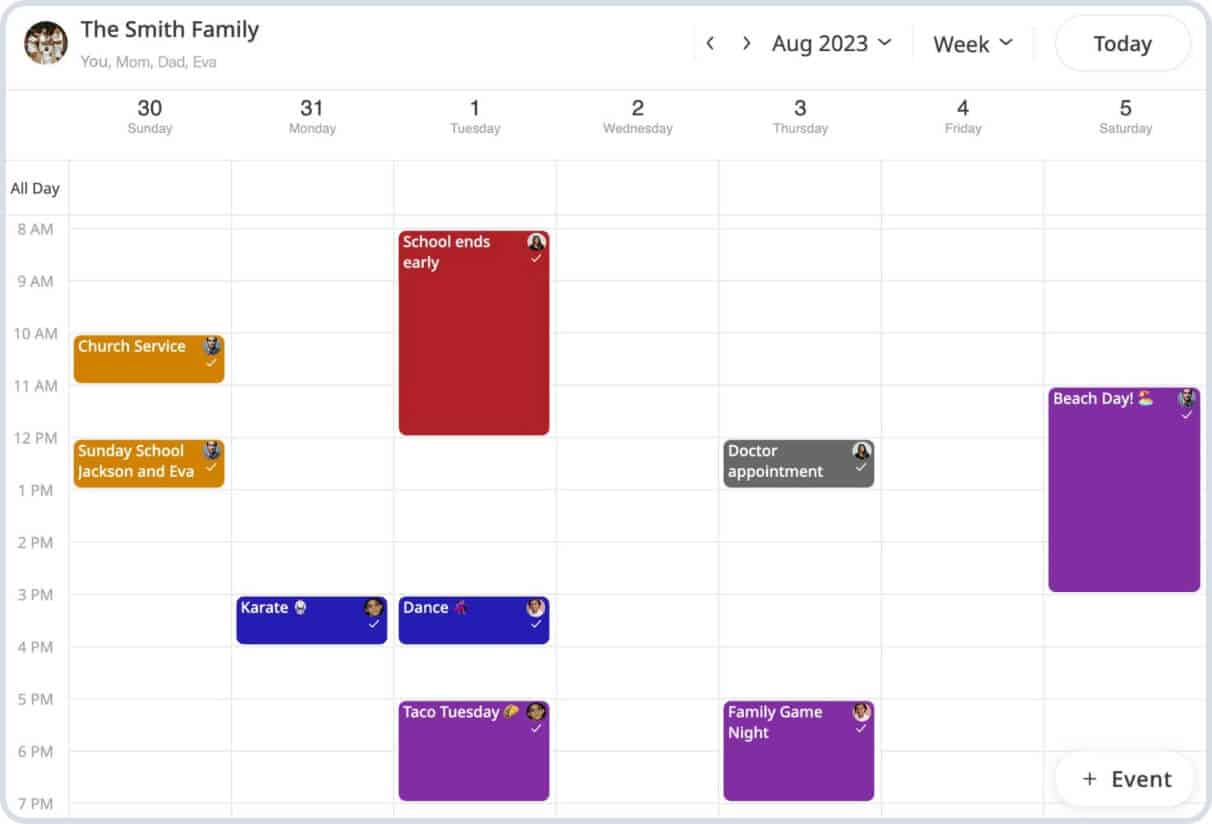 A family shared calendar is a calendar that can be accessed by family members from their devices, either mobile phones or computers. When a family member adds a new event, it synchronizes in real-time with all family members, accompanied by push notifications. The shared family calendar can encompass all pertinent events for the family, including school-related events, doctor appointments, and family gatherings, among others.
Digital Family calendars are essential for managing schedules efficiently. They serve as a central hub where family members can synchronize activities, appointments, and commitments, preventing scheduling conflicts. These calendars promote effective communication and collaboration, fostering unity and shared responsibility within the family. By providing an organized environment, they reduce stress and ensure important events are not forgotten.
Examples of family calendars events
School and extracurricular activities calendar 
With a shared family calendar, parents can easily track and coordinate their children's school schedules, after-school activities, and sports practices. By having a centralized calendar, everyone in the family can stay informed about upcoming events, ensuring timely drop-offs, pickups, and any necessary preparations.
Meal planning and grocery list calendar 
Family calendars can play a crucial role in meal planning and grocery shopping. By using the calendar to schedule weekly meal plans, family members can collaborate and contribute their ideas. Moreover, they can create shared grocery lists, ensuring that everyone is aware of the needed ingredients and can contribute to the shopping process.
Family events and celebrations calendar
Planning family gatherings, birthdays, anniversaries, or holiday celebrations can be a breeze with a digital family calendar app. Members can add event details, such as dates, locations, and RSVPs, ensuring that everyone is on the same page. Additionally, the calendar can serve as a platform to assign tasks, share preparation responsibilities, and even suggest gift ideas for each occasion.
Parental duties calendar
Family calendars can be a lifeline for busy parents juggling multiple responsibilities. They can be used to schedule doctor's appointments, parent-teacher conferences, and other important engagements. By incorporating reminders and notifications, parents can stay on top of their commitments, reducing the chances of missing crucial appointments.
Vacation calendar 
Family vacations require careful coordination of dates, travel arrangements, and accommodation bookings. By utilizing a family calendar app, everyone can contribute their availability and preferences, making it easier to find common windows for the perfect getaway. The calendar can also be used to track important milestones, such as booking deadlines or packing checklists.
Using default calendar apps as a family calendar – drawbacks
When it comes to managing family schedules, Google Calendar and iPhone Calendar are frequently relied upon by many families. These apps have become popular choices due to their pre-installed status on Android and iPhone devices, offering a familiar and easily accessible solution for organizing family events and appointments. However, it is important to note that default calendar apps also have their limitations when used for family scheduling.
Using a regular individual calendar and sending out invites can be a common approach for family scheduling. While it allows you to create events and invite family members, this method has its limits. Firstly, it can be challenging to maintain a centralized view of everyone's schedules since each family member's calendar remains separate. It becomes difficult to get a comprehensive overview and effectively coordinate multiple commitments. Additionally, changes or updates made to events may not be automatically synchronized across all individual calendars, leading to potential confusion and miscommunication.
Another option available for a Google Family calendar is to utilize the shared calendar feature within Google Calendar or iPhone Calendar. While this approach provides the benefit of a centralized platform for family scheduling, it also presents certain limitations. These calendar apps were primarily designed with individual use in mind, lacking specific features and functionalities that cater to the unique requirements of families. For instance, they may offer limited support for customization options such as color-coding or adding personalized photos for each member or event, making it challenging to visually differentiate between individuals or types of activities. Furthermore, sharing the calendar with extended family members, babysitters, or caregivers can be a time-consuming process susceptible to errors, as it requires manually adding a list of participant emails individually per each event.
Therefore, while default calendar apps like Google Calendar and iPhone Calendar provide a convenient starting point for family scheduling, they may fall short in meeting the specific needs of busy families. 
How GroupCal serves as a family calendar app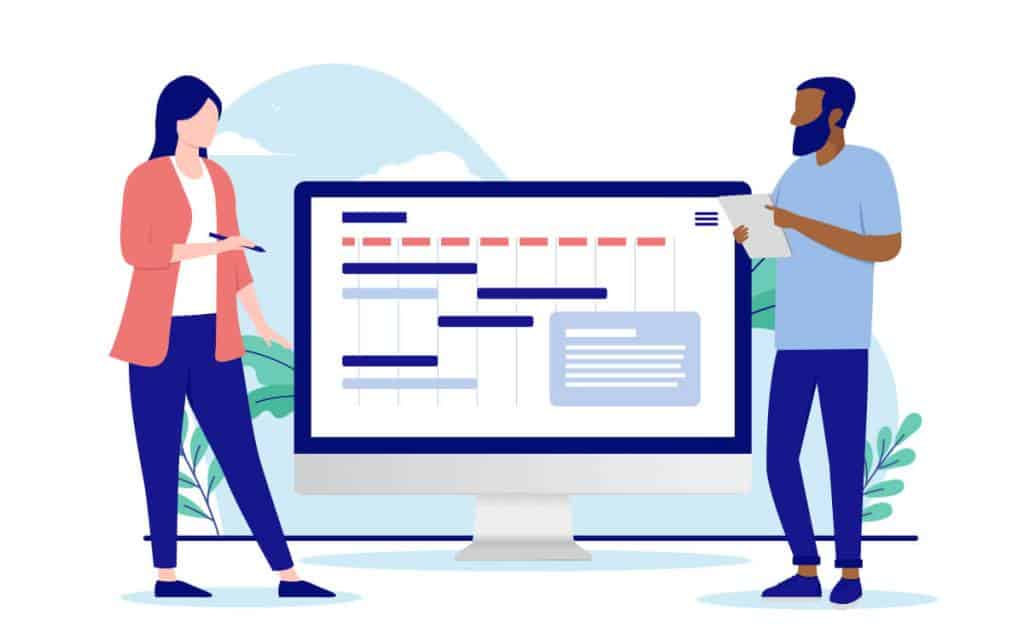 At its core, a shared calendar is a centralized platform where multiple individuals can access and contribute to a common calendar. It serves as a virtual hub that brings together the schedules and commitments of all members, providing a unified view of the family's activities and events.
GroupCal is a shared calendar platform that revolutionizes calendar management for individuals and businesses. With real-time synchronization and intuitive apps for iOS, Android, and web, GroupCal allows users to create shared calendars around different topics. 
GroupCal offers a unique and practical approach to family calendars, providing a seamless and collaborative system for managing schedules. Families can leverage GroupCal in two different ways to effectively organize their activities.
(Recommended) GroupCal allows families to create separate calendars for specific topics such as school, special events, parents' events, and more. These calendars can be viewed together in the 'All Calendars' view, providing a comprehensive overview of all family activities. This option offers scalability, as each calendar can have its own member list. This enables targeted sharing, where specific topics can be shared with particular family members. For example, after-school events can be shared with grandparents, while core family events remain exclusive to immediate family members. Each topic is assigned a unique color and photo, making it easy to distinguish between them on the All Calendar screen.

Alternatively, families may choose to create a single shared family calendar that encompasses all types of events. However, this option has some limitations. It doesn't allow for easy differentiation between different event types using distinct colors and photos. Additionally, it doesn't facilitate sharing specific event types, such as doctor's appointments, with additional family members when necessary because all events are part of the same calendar with the same member list..
GroupCal offers a range of features that enhance the family calendar experience. Real-time updates and synchronization ensure that changes made by any family member are instantly reflected across all devices and platforms. Push notifications keep family members informed about event updates, ensuring that no important information is missed. 
The app also prioritizes organization and customization, allowing separate events to be categorized with colors and photos. This visually appealing and intuitive layout makes it easy to navigate and identify events. Furthermore, GroupCal incorporates family-centric features such as RSVP and reminders, which facilitate seamless communication and coordination. 
GroupCal allows family members to integrate their Google Calendar accounts. This means that their existing calendars can be seamlessly synchronized with GroupCal, allowing them to access all the essential functions they are accustomed to in Google Calendar while benefiting from the additional features and enhancements provided by GroupCal. The integrated Google Calendars and shared calendars sit side by side in the Calendar List section, providing a comprehensive view of all schedules in one place, ensuring that family members can effortlessly manage their individual and shared events.
The free version of GroupCal is designed to accommodate family calendars without any limitations. It's perfect as a free family calendar app. Families can create multiple calendars and add unlimited events, ensuring that all their scheduling needs are met. GroupCal can handle large families as well, accommodating up to 255 members. This scalability ensures that even extended families can effectively utilize GroupCal and benefit from its collaborative features.
Overall, GroupCal's approach to family calendars revolves around the concept of shared calendar hubs, offering flexibility and convenience for families.